Cracked Black Peppercorns
Cracked black peppercorns add texture and flavour to a variety of dishes – especially good for pepper steaks
Cracked black peppercorns add texture and flavour to a variety of dishes – especially good for pepper steaks
Allergy Information: Produced in a factory that handles celery, mustard and sesame. May also contain traces of peanuts and nuts.
You May Also Like...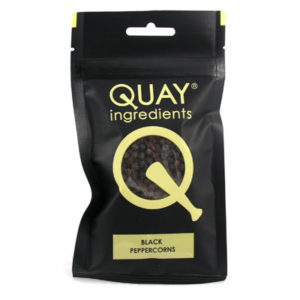 With a strong, pungent flavour and aroma these high quality peppercorns are a versatile seasoning for just about every savoury dish.
Allspice is also known as Jamaican Pepper or Pimento and is similar in flavour to a blend of cloves, cinnamon and nutmeg. Use in puddings or meat dishes, especially lamb.
40g Resealable Bag