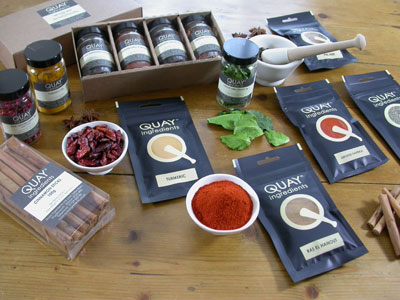 Quay Ingredients is a small family run herb and spice business located on the edge of the Yorkshire Dales National Park and just a stones throw away from the beautiful Forest of Bowland.
The business was started in Ilkley in 2000 by Ian and Deana Southworth. Two years later they moved to their present location which is a converted agricultural building situated between Long Preston and Wigglesworth in North Yorkshire. The building was purchased from the Rural Buildings Trust which was set up to convert disused agricultural buildings and bring them back to life for use by small enterprises. The idea behind this approach was to help regenerate agricultural communities and maintain support for rural facilities such as local schools, post offices and of course, the pub. This is a movement and an approach to a positive work-life balance we wholeheartedly support.
Why herbs and spices? Our interest in this area stemmed from us both being keen cooks and our love of food. So we decided to 'have a go' and offer an extensive range of the finest quality herbs, spices and ingredients. These are now available to buy direct and through a wide selection of farm shops, delicatessen, garden centres and fine food retailers.
About our herbs and spices
From the very best paprika to the finest vanilla pods, our extensive range of herbs and spices has been sourced from around the world and are carefully hand packed in resealable bags and glass jars.
All our products are GMO free and contain no artificial flavour, colour or preservative. As the awareness of speciality foods, herbs and spices and other special flavourings increases, we are constantly researching and sourcing new and exciting products to meet consumers' cooking demand.
If you have any interesting product ideas, comments or suggestions about new ingredients to add to our already extensive range of herbs and spices, we'd love to hear from you.
Please call us on 01729 840740 or e mail info@quayingredients.co.uk