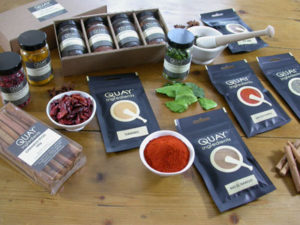 We welcome trade enquiries from independent delicatessen, farm shops, garden centres and all fine food retailers.
Mixed cases are available and there is no minimum order quantity.
OUR PRODUCTS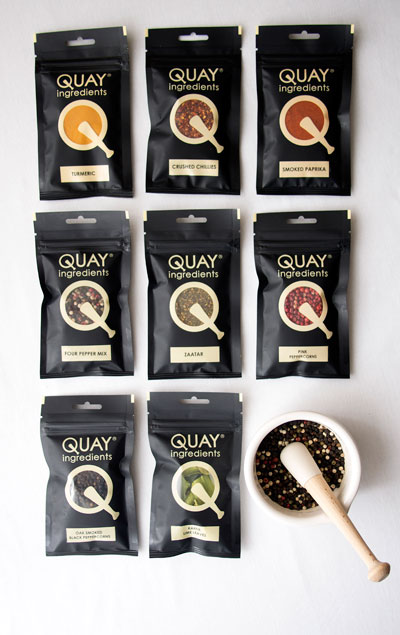 Resealable Pillow Packs
These matt black packs have a euro slot for ease of display, a window to view the contents and a resealable closure for convenience.
Glass Jars
These stylish, contemporary jars are practical and the opening is wide enough to get a teaspoon in!
Gift Boxes
Our gift boxes contain four jars. Several varieties are available such as The Chilli Box, Smokehouse Selection and The Italian Box. Please contact us for the full range.
PepperMate Mills
We are European distributors for PepperMate Pepper Mills. These mills are used by leading US TV cooks such as Ina Garten and Paula Dean.
If you require bulk or catering packs, please contact us.
MERCHANDISING OPTIONS
Shelves for Glass Herb & Spice Jars
Designed to take either 60 or 80 varieties of herb or spice jars to allow retailers to offer a comprehensive range of ingredients. These are made of bleached pine which look great in their natural state or they can be painted to match your retail colour scheme. We also offer bespoke shelving units. Please contact us with your requirements.
Pegboards for Resealable Bags
Available in 2 sizes to hold either 36 or 48 resealable pillow packs. These pegboards have a pine frame and euroslot pegboard arms which hold approximately 6 – 10 bags per peg. Again, the frame can be left in its natural state or painted to match your colour scheme.
Clipstrips for Resealable Pillow Packs
These are very versatile and a great way to display if space is limited. They can be used to merchandise seasonal products such as Mulled Wine Spices amongst your wine section or seasonings and curries within your butchery department.
Please call us on 01729 840740 or e mail
info@quayingredients.co.uk
to discuss your requirements.