Green Peppercorns
Picked before fully ripened these peppercorns have a mild, fresh flavour
Picked before fully ripened these peppercorns have a mild, fresh flavour
Allergy Information: Produced in a factory that handles celery, mustard and sesame. May also contain traces of peanuts and nuts.
You May Also Like...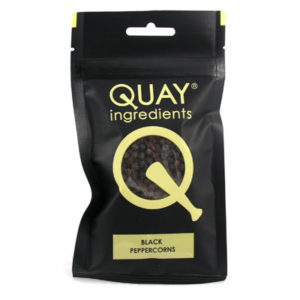 With a strong, pungent flavour and aroma these high quality peppercorns are a versatile seasoning for just about every savoury dish.
Place a bundle of spices in a pan with half a pint of water and 2 to 3 tablespoons of brown sugar. Stir and bring to the boil. Remove from the heat and allow to stand for 3 minutes. Remove spice bundle and add a cup of whiskey. Serves 6.
3 Bundles Resealable Bag